The Coustic Glo & Color Glo Business Models Offer Tremendous Growth Potential With Tried and True Products & Services.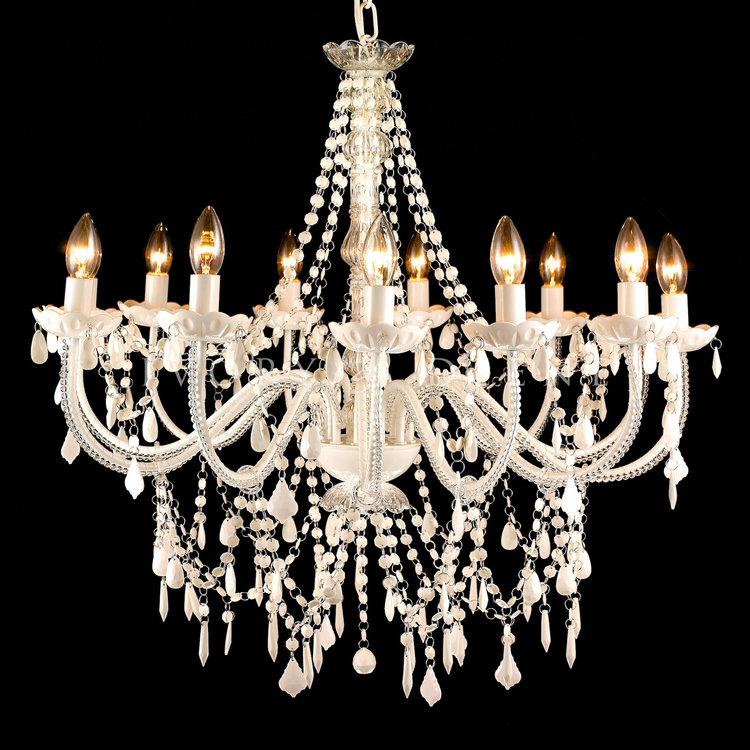 In addition to cleaning and refurbishing acoustical ceilings, we also clean hard ceilings such as vinyl tile ceilings, metal pan ceilings, vinyl-rock ceilings and drywall ceilings. We clean walls including vinyl covered walls, tiled walls, brick walls, stainless steel and FRP walls. We clean fluorescent light diffusers and light reflectors. And we ultrasonically clean the various types of plastic and metal parabolic light lenses and various types of window blinds.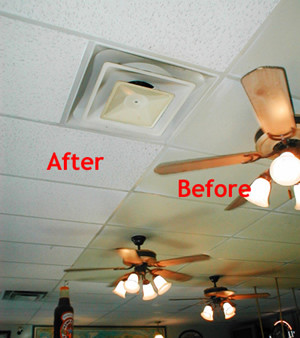 Making sure that your ceiling is clean is very important for your workplace and very important for your employees. If you clean your carpets, but ignore your ceilings you are still left with a potential health hazard which can mean lost productivity due to sick or uncomfortable employees. Whether or not your ceilings look dirty, they should regularly be cleaned as part of a due diligence to prevent Sick Building Syndrome.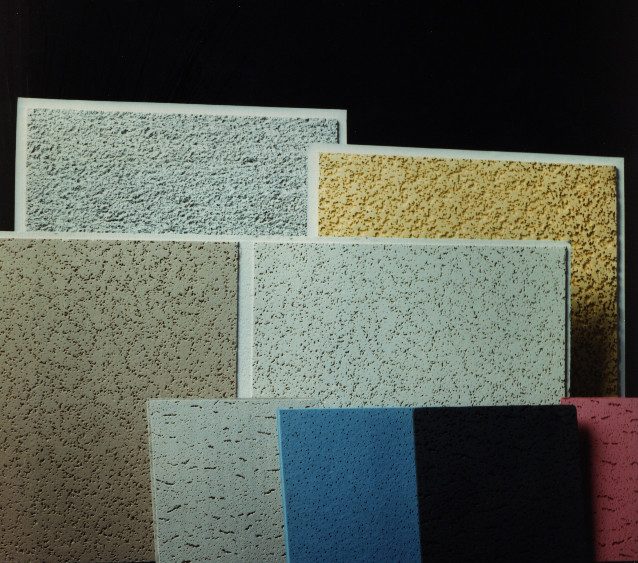 Application of an acoustical & fire retardant coating – gives ceilings a new appearance. The product does not bond tiles to T bars and does not block fissures & pores of acoustical ceilings.
Our Coustic-Glo® acoustical resurfacing and fire retarding process is our most popular service (see details in that portion of this web site) because it leaves an acoustical tiled ceilings restored with full acoustical and fire retardation ratings.
Worldwide Dealerships Available
Coustic-Glo International has been in business since 1975. As a part of CGI International Inc, Coustic-Glo International has enjoyed success worldwide and has repeatedly been listed by national and International publications such as Entrepreneur, Success, Inc., and many others as the leader in our segment of the building service restoration industry.
Coustic-Glo today has grown to include locations throughout the United States and Canada. In addition to our rapidly growing domestic markets Coustic-Glo International has successfully entered into Area Developmental Agreements in Australia, Japan, Korea, South Africa, Ireland. Coustic-Glo International is today seeking strong additional Dealership partners in both the USA and overseas.
The Coustic-Glo business is the cleaning, restoration and repair of all types of ceilings and walls found in commercial, industrial, and residential buildings.
Coustic-Glo International offers you an opportunity to provide a service that is needed by virtually every property you encounter. Today you will find Coustic-Glo saving the owners of properties up to 80% over the cost of having to replace ceilings that have become stained or discolored from vents, smoking, dust, water stains, or the passing of time. No longer is replacement the only option.
We are looking for enthusiastic entreprenuers to join our team of dealerships. Consider what Coustic-Glo Dealerships enjoy:
Almost no competition
50 -70% profit margins
Turnkey – no previous experience needed
Financing available
Free on-going support
Guaranteed investment
Successful offices in more than 150 cities worldwide
International Name Recognition
Free on-going 3 day in-house training and support
Worldwide product distribution
15+ proprietary products
With Coustic-Glo you will join a growing network of dealerships located
worldwide that are positioned to work with any size customer to service
the specific needs of the properties they maintain. We are presently servicing
properties of all types and sizes with great success. We are competitively
priced and offer superior before, during, and after customer service.
Our expertise lies not only in the patented, tested and exclusive products we
use but also in the extensive ongoing training and support we provide each of
our offices with the rapidly changing environmental concerns and laws governing the types of products that may be used in new construction and rehabs you will be trained and certified in product handling to help in customer stay in compliance in projects.
As a Coustic-Glo business owner you will be providing the clients and major property accounts in your market with:


Coustic Glo Services
ACOUSTICAL CEILING CLEANING.
ACOUSTICAL CEILING DEODORIZING (Fire and Odor abatement).
CEILING REPAIR (Laser Leveling, replacement of broken and mismatched tiles).
VINYL CEILING CLEANING.
METAL CEILING CLEANING.
CEILING GRID CLEANING.
COUSTIC-COAT CEILING RESURFACING (CA Fire Marshal flame retardant # 4480-1245-100).
FIRE RETARDATION (UL Listed).
VINYL WALL CLEANING.
CEILING COLOR CHANGES.
CEILING INSTALLATION (USG, Armstrong, and others).
COUSTIC ENVIRO-CARE SERVICE.
VINYL-GLO VINYL WALL TINTING AND RESTORATION.
COUSTIC-GRID CEILING GRID RESTORATION (Patented Geon Vinyl overlays).
FABRIC WALL CLEANING (Coustic-Glo Versa-Steam System).
CUBICLE DIVIDER CLEANING.
CHANDELIER CLEANING (Non-Spotting).
BLIND CLEANING (Ultrasonic Generator).
PARABOLIC LENS CLEANING.
As you can see from this list as well as the information enclosed we are serious about you making money and enjoying the quality of life you deserve. Our services are done in place and at a time that is convenient to the customer. The Coustic-Glo products are safe and non-toxic and are so unique they have been patented. We are interested in individuals with strong marketing and administration backgrounds. Coustic-Glo offers complete training, marketing and operations programs, You are provided with all equipment and products required opening your business and we also assist with further business asset acquisition.
After you have completed our extensive training programs where you will be trained to provide the services we offer and also how to acquire, service and maintain your customers, and tapping into our broad base of existing customers you will be ready to start making money. You will continue to enjoy an abundance of customers from the ongoing marketing, advertising and Corporate Accounts programs we offer. With Coustic-Glo you will finally be positioned to enjoy a quality of life you may have only dreamed of and with Coustic-Glo you will be earning the income to enjoy it.

Dealership Testimonials

Meet some of our partners! World-class Coustic Glo customer service is the very premise of our core philosophy. Our mission is to provide the very best patented products and services, alongside award-winning support for market growth and client retention.
See what our partner dealerships have to say.
"I left a traditional job in the corporate world where I managed a territory with a $2 million in annual sales. Since becoming a Coustic-Glo franchisee, I enjoy my freedom, spend more time with my family and I'm making more money. I'm healthier too... now I'm doing triathalons!"
"Since joining Coustic-Glo we've expanded our goals far beyond any previous expectations. Working for ourselves has given us a true feeling of satisfaction and security. We sponsor a little league team. We play golf together often. We're enjoying our work, our family and our personal growth."
"After 20 years in the corporate world I wanted "something better". Since 1984 I have found that "something better" A service business that required a relatively small investment. Very little inventory: highly profitable: excellent home office support and I'm the boss. Coustic-Glo is all that and more. It gives my family and I the freedom to do the things we've always wanted. My only regret is that I didn't join up with Coustic-Glo sooner."
"On October 2nd, 1980, I signed a contract with Coustic-Glo International Inc to Clean acoustical ceilings using their products and system of cleaning. Many of my friends asked, "What are you going to do?" To my answer –clean acoustical ceilings- They said, "Oh well, good luck." Twenty plus years later, I am still cleaning acoustical ceilings using the Coustic-Glo products and system. I was right on both accounts."
Up to 80% Cheaper than replacing and environmentally friendly.